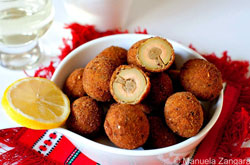 The short distance between the coast and the peaks of the Apennines, featuring the Brands, is one of the most scenic properties affect the gastronomic tradition of the region.
Marche's cuisine is full of different souls: that of rural tradition and montana grows in the cultivation of vegetables, legumes, herbs, but also in meat, cold cuts and cheeses, while that of the seafaring tradition of the Adriatic coast has in fish soup its main representative.
Among the recipes that best distinguish oliva ascolana del piceno area, surely, has a privileged place. This delicacy is made with green olives ascolana tenera, stuffed with a mixture of meat and Parmesan, then breaded and fried. The perfect combination of the sweet flavor of the olive and the taste of the toppings make this dish one of the protagonists of entire events, which take place annually in the territory, as Italian Fritto Misto fair
of Ascoli Piceno.
Marche cuisine are evidently appreciated for the use of quality local products, such as mushrooms and truffles, which has an amazing spread within the province picena and is the protagonist in the
menu of the entire region.
On the coast dominate of course marine products, which stimulate the imagination of gourmets especially in the typical soup, traditionally made with fish that had little value to the market, but now adapted to personal taste of chefs and admirers of cooking fish.
These are just a few of the traditional dishes of Piceno, whose flavours are enhanced with excellence from wine production, which in recent years has been increasing its prestige.
are increasingly appreciated in fact Doc wines: Rosso Piceno, Falerio and any variety of wines of Offida, particularly Pecorino.
Our restaurant, top of the marches, follows naturally good rule to present exquisite dishes of Piceno with the intention of offering a true taste experience to our guests.
we recommend a recipe in case you want to take part in the preparation of stuffed olives: www.ricette.giallozafferano.it
.
Otherwise we are waiting here at Sapore della Luna savoring together.